It's Inquisitive Wednesday! On IW, I answer 5-10 questions, be they from awards, tags, or reader input.
My friend Annie just launched her blog! And it is fabulous. To celebrate the launch, she is having a party with a tag and interviews and a giveaway!
And here is her tag!
1. What was the last book you read, and would you recommend it?
Last book I read was an alpha-read. Which I totally would recommend, but you should probably wait until it's been published.
I'm currently reading The Count of Monte Cristo by Alexandre Dumas and Embassy by S. Alex Martin. I would currently recommend both.
2. Describe the perfect reading spot.
A cozy arm chair next to a lamp. Also a kitten or a baby dragon to read with you.
3. Favorite book beverage? Tea? Coffee? Hot chocolate? Tears of your readers?
Coffee. Something vanilla or chocolate.
4. Share favorite quotes from four books.
Just four???
"Fate," Blue replied, glowering at her mother, "is a very weighty word to throw around before breakfast." ~The Raven Boys

"WHERE'S MY COW?!
IS THAT MY COW?!
HRRRUUUUGGGH!!!!
THAT'S NOT MY COW!
THAT'S A HIPPOPOTAMOUS!" ~Thud! by Terry Pratchett

"I kind of lost track of time…" "For two hours?" Elend nodded sheepishly. "There were books involved."~The Well of Ascension by Brandon Sanderson

"Home is behind, the world ahead,
And there are many paths to tread
Through shadows to the edge of night,
Until the stars are all alight.
Then world behind and home ahead,
We'll wander back to home and bed.
Mist and twilight, cloud and shade,
Away shall fade! Away shall fade!
Fire and lamp, and meat and bread,
And then to bed! And then to bed!"

~The Fellowship of the Ring by J.R.R. Tolkien
5. What is your most loved fantasy read? Dystopia? Contemporary? Sci-fi? Classic?
Fantasy: The Lord of the Rings by J.R.R. Tolkien. (Are any of you surprised?)
Dystopian: Divergent by Veronica Roth.
Contemporary: I'm going to cheat with this one. I don't read many contemporaries, so I'm going with an urban fantasy. Which is basically the same thing, but with magic. The Raven Boys by Maggie Stiefvater.
Sci-fi: A Wrinkle in Time by Madeline l'Engle.
Classic: Pride and Prejudice by Jane Austen.
6. List three authors you've collected the most books from.
Ooh. Maggie Stiefvater (7 books), Brandon Sanderson (at least 10), and Madeline l'Engle (at least 8, though some of those are duplicates).
7. What are your thoughts on magic in literature?
I love magic.
But there are boundaries. Mainly, it depends on where the magic comes from and what it's being used for. If it's being used wrongly and it comes from demons or something like that, I am not interested. If it's mostly being used for good and the characters have it naturally or through some fairy-gift or something, then I'm okay with it. I don't mind if the main character uses their "good" magic for evil once or twice, realizes their wrongdoing and then makes it right and tries to do better. That's character development. I don't want to read a story where people are getting mixed up in witchcraft and making terrible choices all over the place (unless they are the villain but even then I don't want bunches of details about their magic misdeeds. Just tell me that they are evil and they are using evil magic or using good magic for evil and that's truly enough for me.) Also… I don't care if good magicians are called "wizards". If they are not getting their magic from somewhere bad, then I couldn't care less what they are called. "Witches" almost always has a bad connotation for me, but if you're writing The Wizard of Oz (don't, that's plagarism) then I won't care.
That almost turned into a blog post. But those are my thoughts on magic in literature.
8. What types of book covers capture your imagination most strongly? Feel free to include images.
Terrible truth, I almost don't care about book covers. The cover could be absolutely gorgeous, but the story is terrible. Or the cover is ugly, but the story becomes one of my favorites.
But I like simplistic covers or artistic ones. Like this one: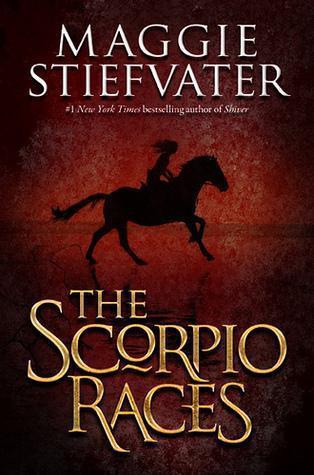 9. Mention the first book character that comes to mind. Elaborate on this.
My brain spit out Puck Connolly. Who happens to be one of the main characters of The Scorpio Races. Puck… Puck is awesome but not in a kick-butt, Katniss Everdeen way. The Scorpio Races is hard to explain, but I'm going to try. To try to keep her brother from leaving, Puck enters The Scorpio Races, a deadly race for men only that involves riding man-eating water horses. Puck is not trying to start a revolution or even break society rules. She just wants her brother to stay. (Go read it, it's awesome.)
10. Do you lend out your books? Or is that the equivalent to giving away your babies?
I have a horror story about lending books. I used to lend them regularly, always getting them back at some point. And then… I lent my copy of Eragon. And I never saw it again.
So… if you are my sibling, live in my house, and be very, very, VERY careful, yes you can borrow my books. BUT BE CAREFUL AND I WANT IT BACK AS SOON AS YOU'RE DONE!!!
And that's it! Go check out Annie's blog!